The Company
Production Functional Factory (PFF) is an SAS created on July the 5th 2012, for a purpose aiming at research and innovation to launch new products in the market.
Its guideline is summarized in its corporate goal: "Research, development, studies, advice, design, protection, development, production and marketing of all innovative products, directly or indirectly through subcontracting."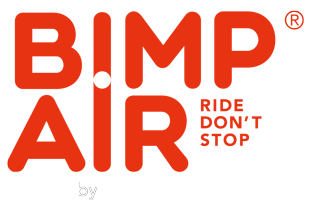 The Flagship Project
The current PFF project is the development and commercialization of innovative tire solutions. Bimp'Air is an inflating system for tires, tubeless, forks and shock absorbers that meet the entire pneumatic field. Composed of a high-pressure compressed air (at 50 bars) capsule and a miniaturized high-pressure system to load it. The innovation also consists in using the energy produced by the bicycle to create air. Complementary solutions have been created during the product development and the market link: an electric charger but also gas transfer refill stations, giving the possibility of charging the capsules with nitrogen or CO2.
A simple idea was at the beginning, then arrived the analysis of technical feasibility, market research, financing plan, product design and development, legal elements, structuring the team, industrialization, commercial and communication up to the culmination of a great quality product and launching on the international market.
Marcello Aghilone, inventor of the Bimp'Air system and founding partner of PFF says: "The creation of PFF has made it possible to realize the Bimp'Air project, starting from an idea to then make it real and marketable. It's complementarity and sharing skills that are at the heart of the human adventure and innovation that is Bimp'Air.
This technological revolution in the field of inflating, through the miniaturization of high pressure and its accessibility made possible by its nomadic aspect, presents to this day a strong interest in the tire field but also numerous opportunities for diversification in other markets.
The team
A professional, competent and multidisciplinary team actively working within PFF makes this adventure possible.
To this day, it is composed of six active and very complementary people who work together to respect the company's values: creativity, professionalism, synergy, commitment, thus bringing together conditions for innovation and performance in a spirit of sharing and contributing.
The company has in-house technical, legal, financial, commercial, marketing and communication skills. With its cultural representativeness with four different nationalities, seven languages spoken, a strong energy and openness to the world, the PFF team is tackling the international market.
The Vision
The SAS Production Functional Factory (PFF) answers to a particular funding model that is Active Investment. It has a share capital of € 2.3 million thanks to love money and a strategic partnership with its industrial partners.
A high-level strategic committee provides the management team with an important complement of expertise and network.
Nancy Aghilone, CEO and Marketing and Communication Director of PFF, says: "The Bimp'Air project experience brings us the skills and knowledge required to lead an innovative project from idea to realization. The combination of rigor and flexibility is the key to meeting the challenges of good ideas and developing them from A to Z. Our ambition is to replicate the model for other innovative projects tomorrow."
ADRESSE
Sas Production Functional Factory
280 Rue Nicolas Joseph Cugnot 
A4 – 34500 Béziers – France
EMAIL
TELEPHONE
+33 4 48 14 04 39